Posted on Sep 1, 2022
Using a change hair color app is a great way to try out a new hair color before dyeing a single strand. You can experiment with different shades and a huge variety of new hairstyles, too.
What You Will Learn
In this article, we'll look at the best app to change hair color and style, as well as answer some frequently asked questions about hair color changing apps and their features.
Jump to The Section You Like
10 Best Hair Color Changing Apps
Rather than ask you to download each app for changing hair color yourself, we've done the hard work and scoured the web, checking out each color changing hair app to find the best ones. Here's what we've found:
Hair Color Dye

This is an app that changes hair color and lets you try a completely new hairstyle. It's a good tool if you want to try applying various hair colors to specific sections of your hair for a layered look and easily erase any mistakes.

The biggest drawbacks are that some colors aren't free, it doesn't work as well with every hair texture, and you can only buy it on the iOS App Store.

Hair Color Changer

Hair Color Changer app allows you to try out a new color quickly and easily, and includes the ability to pan and zoom when viewing photos, making it easy to see what your new hair color looks like in real life.

You can also easily undo changes as you go. Finally, you can upload your photo and share your different hair colors with your friends on social media.

One of the biggest downsides is that this hair color changing app is only available on the iOS app store, so Android users won't have access to it.

Style My Hair

This simple change my hair color app offers hair care tips as well as other features like 3-D imaging, allowing you to create virtual hair that you can view from multiple angles. Style My Hair is a hair color changer that's made by L'Oreal and is free to use on both iOS and android.

The biggest shortcoming (and I hope they'll change this in the future) is that, while you can upload your photo and change your hair to a variety of different hair colors, you can't try different hairstyles.

Fabby Look

Fabby Look is fun, free and easy to use. You have access to over 10 different colors and can try them out in videos as well as photos. Some of the shades in this color app are very vibrant, like bright pink or silver.

A major shortcoming of this hair color change app is that they're aren't a lot of options available using Fabby Look, including natural tones. The different hair colors also get applied evenly across the photo, with no options for precision details or shading.

Hairstyle Magic Mirror

Hairstyle Magic Mirror is an app to change hair color that comes in both Lite and Premium versions. You can download the Lite hair color changer app free of charge, but the premium one costs $4.49 if you want to unlock more styles or new color options. You can use a premade male or female character, or upload your own photo.

Although this changing hair color app also lets you experiment with both different hair colors and hairstyles, the facial detection feature isn't perfect in Lite, and the color options are limited.

YouCam Makeup

YouCam Makeup is the best hair color changing app for anyone who wants to update their own color in real time. It uses augmented reality to do this- similar to the way that snapchat filters work, as well as letting you change your skin tone and facial features. The best part is that it tells you which dye you can use to get the same shade at the salon.

Although this change your hair color app is free to use, you'll need to pay for access to certain hair colors or extra features. This means upgrading to the premium version of the app to change your hair color if you want these.

Hair Zapp

Originally created for and by professional hairstylists, Hair Zapp is a realistic hair color app that comes in both a Free and Premium version. If you want to use this app for hair color change free of charge, you'll still have access to over 500 style and color combos, making it easy to create your favorite looks.

Like many other apps to change hair color, the free version has ads that you'll have to pay to get rid of by upgrading. The Premium version is geared more towards hairdressers with features like client management tools.

Hairstyle Try-On

Hairstyle Try-On is another of the apps that change hair color that let's you try both different hair styles and fun new colors. You can also view information about each style in the picture and check out hair care tips.

Using this app, hair color change is free. That said, they only offer about 50 shades and 36 hairstyles in total. It's also only available if you're an iOS user, without any options for Android phones to download it.

Black Hair For Women

We're so happy to see Black Hair For Women available, because this app that changes your hair color puts the focus on colors and styles specifically for Black women's hair. Using this app, change hair color or cut to something natural or choose from a variety of vibrant, professionally-edited color and style options.

Although this app for hair color change is free, you'll have to pay $2.99 to get rid of ads, and $.99 every time you want to try a new add-on package. As is the case with some of the other apps for changing hair color, Black Hair for Women isn't yet available for Android users.

Facetune2

Facetune2 is one of the apps to change hair color both on iOS and Android phones. You can upload your photo and experiment with multiple fun options such as hair dye, makeup and even glitter.

This is probably the best hair color changer app if you need something versatile that can work on different devices, with customizable features. Unfortunately, some of these features aren't available without a subscription, which costs $9.99 a year.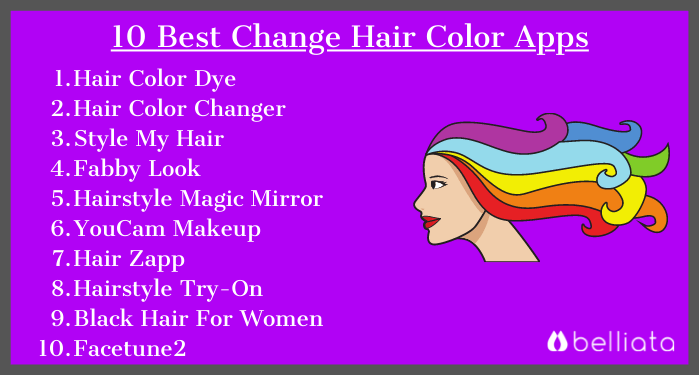 Hair Color App Frequently Asked Questions
Here are some of the frequently asked questions that we get when people ask about choosing a change color of hair app. Take a look and let us know if we've missed anything.
Is there a filter to change hair color for Instagram?
There is! You can find it by clicking on the magnifying glass and typing in "Hair color" or "Change hair colors" in order to access all of the filters available. There are several that you can use, but my personal favorite is the Cabelo Colorido Filter.
Is there an app to try out different hair colors?
There are so many to choose from! In fact, we've covered several hair changing color app options above, and we'd love to hear what you think of them.
Can Facetune change hair color?
You can upload your photo to Facetune and change your hair colors using the "Hair Color" feature that's in the toolbar. They offer about 15 different filters you can use to try out new hair colors.
What is the best app to test hair color?
If you're looking for the best app to change hair color, the answer will really depend on what you're looking for. Some of the apps that we've reviewed focus on salon looks and photo realism, while others are the best hair color app if you want to try a variety of styles and even makeup.
Is there a free app to change hair color?
You're in luck, because there are so many. If you're looking for a change hair color app free, then why not check out one of our top 7 pics- there are options for both android and iOS users available!
How can I cover grey hair in photos?
Apps that change your hair color will easily cover the grey by overlaying the image with another shade. If you're looking for more subtle retouching that's as close as possible to your natural look, Style My Hair is a great option.
How do you change your hair color on your phone?
It's simple- either download one of the apps for hair color change and upload a photo or try out the filter on Instagram to get started.
Conclusion
There are a variety of apps to change your hair color available, and it's not always easy to choose between them. The best thing to do is to download the free version of one and give it a try.
A change hair color app is a great way to try out vibrant hair colors without any dye or commitment. You can save your best hair colors and hairstyles to show your friends and even bring them to the salon to help you pick a shade if you're ready for a change.
Citations
Optimizing energy consumption of guis in android apps: A multi-objective approach
https://dl.acm.org/doi/abs/10.1145/2786805.2786847
Nyx: A display energy optimizer for mobile web apps
https://dl.acm.org/doi/abs/10.1145/2786805.2803190
Designing branded mobile apps: Fundamentals and recommendations
https://www.sciencedirect.com/science/article/pii/S0007681315000051