Your Guide To Brow Lamination
Posted on Jul 17, 2023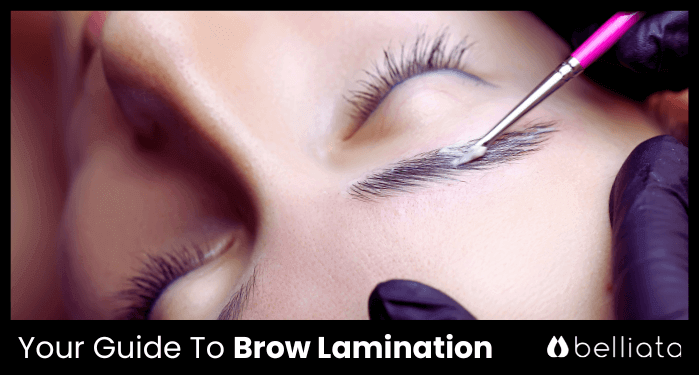 So, what is brow lamination, and why is everyone on Instagram and TikTok talking about it? Let's take a look at the latest treatment for unruly brows and see what all the buzz is about.
Jump to the Section You Like
What Is Brow Lamination?
Also known as a "Brow Perm", a brow lamination treatment is a semi permanent chemical process that softens and reshapes the natural bend of your eyebrows and sets the brow hair into your desired shape using a fixing solution.
This can permanently sweep natural brow hairs into that sleek, upward position that you see everywhere online right now- this is where the term "laminated brows" gets its name, since they look so sleek and perfect.
If you have sparse brows, gaps in your natural brow hair, or are looking for more defined brows, getting a chemical treatment like an eyebrow perm can help you achieve a look similar to what people get with eyebrow gel, but without the effort.
How Does The Brow Lamination Process Work?
It doesn't take very long to laminate brows- the entire process can be done in about half an hour.
The brow artist will clean your face and brow area prior to starting. If you have sensitive skin or allergies, they may also have had you perform a patch test prior to your appointment.
After your face is clean, they'll apply a perm solution to your natural brows and wait a few minutes.
Then they'll wipe this off, apply a neutralizer and sweep your brow hair upward into their new shape. If you have thicker brows, they may use plastic wrap to speed things up.
Finally, they'll wipe your newly laminated eyebrows clean, put on some conditioner, rinse it off and let your brow hairs dry. The brow artist may also pluck any stray hairs left over.
The eyebrow lamination process is the same for all brow types. Sometimes, eyebrow lamination is combined with other brow treatments, like tinting.
Do not miss our post on lash extensions types.
Getting Ready For A Brow Lamination Appointment
If you're about to get your own brows laminated, there are a few changes you might need to make to your daily beauty routine, and a few things to be aware of before your appointment.
First, since eyebrow lamination is a chemical treatment, you'll want to avoid using any other harsh chemicals in the weeks beforehand.
This includes skipping any medical grade chemical peels or invasive beauty treatments. Also, don't use products containing retinol or alpha hydroxy acids, and skip exfoliants for at least 48 hours, or you risk skin irritation.
Avoid threading, waxing or tweezing your brows prior to the session, and let your brow artist know if you have sensitive skin or any allergies.
Brow Lamination Aftercare
After getting an eyebrow lamination, you can take some easy steps to care for your skin and keep your brows looking their best.
Try not to get the brow hairs wet for 24 hours afterwards. This will give your eyebrows time to set into their new shape. After this, you should condition the hairs or apply oil to them regularly. You can ask the salon for a gentle hair conditioner or oil for this.
Finally, let your skin rest, too: don't put any exfoliants or retinol creams on the nearby area for a day or two.
Can I DIY Brow Lamination At Home?
Although there are some kits you can buy online to laminate your brows at home, we definitely don't recommend it.
If something goes wrong, you can end up with more than a bad brow lamination: you risk hair loss or chemical burns.
If you want to try out a laminated brow look, or see what looks best with different face shapes, the best thing to do is slick the hairs in place with a brush and some brow gel. It's temporary, and it's safe.
Brow Lamination Pros and Cons
There are some big benefits and a few drawbacks for anyone looking to get laminated brows.
First of all, you'll need to make sure you have enough hair to get your brows laminated. This works best with full or nearly full brows, and you may need a brow tint for very fine or light hair types.
Also, you'll need to get it redone about every eight weeks, which can add up quickly. You can achieve the same look temporarily (and cheaply) by brushing the brow hairs upward and applying brow gel.
At the same time, brow lamination lets you achieve flawless Instagram brows every day with almost no effort, and it can be a great way to create fuller-looking brows or tame unruly hairs that go in every direction.
If you're still not sure, check out some brow lamination before and after photos online (preferably on the studio's own website) before going in.
Is Brow Lamination Safe?
Like all chemical treatments, eye brow lamination is safe if performed by trained brow artists. It's important to have this done by a trained professional, since you do not want to get these chemicals in your eyes or leave them on the skin for too long.
If you are pregnant, it's not a good idea to get your brows laminated because the chemicals used are the same ones used in perm solutions (at different concentrations), and these can be harmful to the mother or fetus if inhaled. Until more research has been done, it's best to avoid this.
Conclusion
If you're ready to change up your look, then having your brows laminated can be a fun way to do it. It's not permanent, so feel free to experiment and enjoy the process.
Now that you've read through this, you'll be ready if any of your friends ask "What is brow lamination, and why is everyone talking about it?" If you find out about any exciting new beauty trends, be sure to let us know!
Citations
More about brows: How poses that change brow position affect perceptions of gender
https://journals.sagepub.com/doi/abs/10.1068/p2784
The influence of brow shape on the perception of facial form and brow aesthetics
https://journals.lww.com/plasreconsurg/Fulltext/2007
The direct brow lift: efficacy, complications, and patient satisfaction
https://bjo.bmj.com/content/88/5/688.short
FAQs
How long does brow lamination last?
It's semi-permanent, so it will last up to eight weeks. Of course, it's hard to answer "How long does brow lamination last" with an exact date, since it depends how fast your hair grows. As your eyebrow hairs fall out and new hair growth occurs, your results will fade.
This means that someone who's last brow lamination was six weeks ago will have brows less flawlessly straight than someone who just had it done two weeks ago.
How much does brow lamination cost?
Brow lamination cost will vary a bit depending on your location and the experience of the eyebrow artist. In general, you can expect to pay between $45 to $15 per session, with a brow lamination and tint costing about $50 more.
Does brow lamination hurt?
Getting your brows laminated should never hurt. While it might be a bit uncomfortable or feel strange to have your eyebrow hairs brushed upwards and covered in cream for several minutes, it shouldn't be painful.
If you experience any pain, burning or itching, let staff know immediately, as this could be a sign of sensitive skin or an allergic reaction.