How To Find A New Hair Stylist
Posted on Apr 26, 2023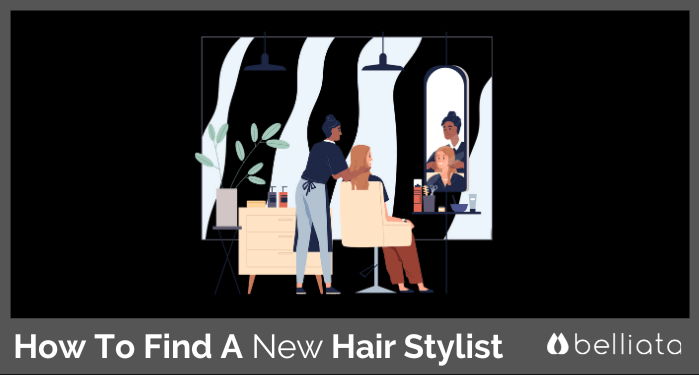 Figuring out how to find a hairstylist doesn't have to be stressful. Whether you've recently moved, are ready for a totally new look, or your current stylist just isn't a good fit, we can help.
What You Will Learn
We'll go over the basics of how to find a hairstylist that suits you, tips to find stylists in your area, and what to expect during your first appointment (as well as how to make the most of it).
Jump to The Section You Like
How To Find A Hairstylist Near Me?
Whatever your hair goals are, finding a new stylist can seem intimidating- after all, you'll want to make sure that you're on the same page and get along well before you're actually in the chair getting a haircut.
Here's how to make sure that your new hairstylist is not only a good stylist, but the right person to meet your beauty needs.
Word of Mouth
So many folks turn to the internet to ask "How do I find a good hairstylist?" when the answer is literally right in front of them. If you like the hairstyles of friends or coworkers, then ask them for a recommendation. People are often happy to oblige, and some hair salons even have referral programs to encourage this.
If someone you know has a similar hair type or texture (and you like their hairstyle or color, of course), then don't be afraid to ask for a hair salon recommendation or give their same stylist a call.
Use Social Media
In today's digital world, figuring out how to find a professional hair stylist is easier (and more visual) than ever…
Typing "how to find a hairstylist near me" into a search engine will only get you so far, though. This is where Instagram and Facebook come in.
Check out the Facebook pages of hair salons and stylists in your area- this can be a great source of hair inspiration and also show you whether a hair stylist is on top of the latest trends and give you an idea of their experience and styling technique.
Both hair salons and stylists have Instagram pages, and these can be a great way to get an idea of their work and come up with realistic expectations of what they can do for you.
You can also use these platforms to message them with questions. Unless they're a very busy celebrity hairstylist, they'll probably reply quickly.
Read Reviews
With most tech-savvy people, the question is not "How to find a hair stylist near me" (all you need to do is type in the right keywords and your location online) but rather "How to find a hair stylist in my area that's any good."
This is where reviews come in. You can find reviews on a beauty salon's website (and comments on their Instagram pages), but you'll get much more honest feedback on pages like Google and Yelp.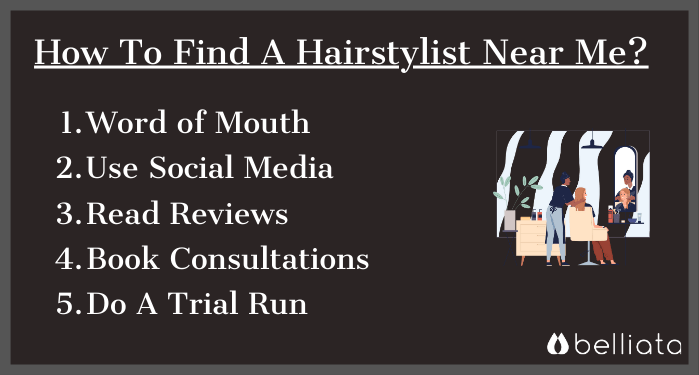 Book Consultations
Even if you think you've finally found the new hairstylist you've been searching for and are ready to pay them a visit, consider scheduling a consultation before you book an appointment.
A consultation is a valuable opportunity to talk with your hairdresser about the haircut, style or color service you want, and decide on which treatments and products work best for your hair. It's also a chance to get to know them, see how thorough they are, what kinds of questions they ask, and get a feel for whether they're the right stylist for you.
Figuring out how to find a good hairstylist may seem hard at first, but the quality of a consultation appointment can tell you a lot about a hair stylists' skills.
Don't forget to ask questions- this will save you both much more work later on.
You'll want to know how much experience they have with your hair type, check out their portfolio of styles, find out how often they enroll in professional training, and (most importantly) exactly what their plan would be for helping you achieve the look you're going for.
Do A Trial Run
Once you've found a new salon or a new stylist that you're interested in, start by booking something less serious than a hair cut.
Often called the "Blow-dry test", many new clients will start by scheduling a blowout to get a feel for the salon and stylist first. If that's not your thing, then you can also book a basic trim or styling service to get an honest look at how they work.
Use a Booking Platform
One of the easiest ways to find a skilled stylist near you is to use a booking platform. This can save you a ton of time and stress, since all of the information you'll need is in one easy-to-search spot.
Our favorite platform is Belliata. It's incredibly user-friendly and makes the booking process a breeze. You'll be able to search your hairstylists in your area, read reviews, check out their services and pricing and book online easily.
Why Is It So Hard To Find A Good Hairstylist?
There are a lot of good salons and stylists out there (as well as some not so great ones), but sometimes it's more a matter of finding one that's best for you.
While the question of how to find new hair stylist professionals in your city might be easy to answer, it's harder to figure out which salon/ stylist is right for your needs. Here are some things you can do to make it easier:
Communicate: Ask lots of questions and make your expectations clear before you're actually in the chair. This avoids any misunderstandings or last-minute confusion.
Bring Pictures: Be sure to bring photos of any haircuts, colors or styles to help you describe exactly what you want. It's often easier to interpret a picture than a description of something that can be a bit vague. If the salon has pictures you like on their instagram, even better- save or screenshot the post to show them.
Learn the Lingo: Long layers, ghost layers and shag layers are all very different, for example. By taking care to learn the right terminology for the hair style and color you want, you'll be able to point out exactly what you're looking for and make your stylist's life easier.
Conclusion
Getting great hair should never be stressful- quite the opposite, actually.
We hope that our tips and ideas have helped to point you in the right direction. If you have any suggestions on how to find a hairstylist that we haven't covered, please reach out and let us know.
Citations
Hairstylists' relationships and helping behaviors with older adult clients
https://journals.sagepub.com/doi/pdf/10.1177
Pamela's place: Power and negotiation in the hair salon
https://journals.sagepub.com/doi/pdf/10.1177/08
Good Practice in Salon Management
https://books.google.com/books?hl=en&lr=&id=QKKMXjsfdgMC&oi=fnd&pg=PR7