Your Guide To Permanent Makeup For 2023
Posted on Aug 25, 2023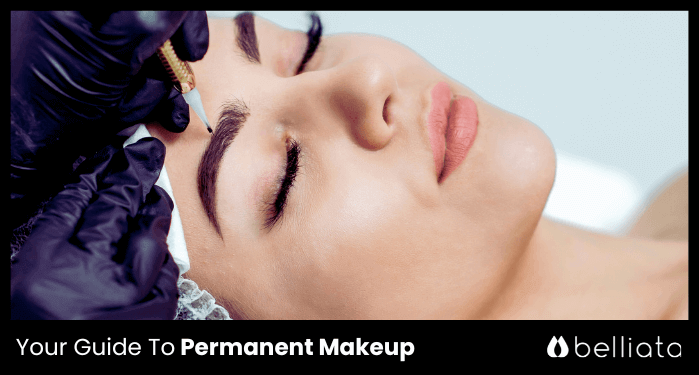 The permanent makeup industry is growing, and many people are turning to this cosmetic tattoo procedure in beauty salon to change their appearance. Let's look closer at the procedure and techniques.
Jump to the Section You Like
What Is Permanent Makeup?
The term "permanent makeup" refers to a cosmetic tattooing procedure, where pigments similar to tattoo inks are deposited into the client's skin to create the appearance of makeup such as eyeliner, rosy lips, or even freckles.
A permanent makeup artist often uses special tattooing techniques and a finer needle than a regular tattoo artist. This allows them to target the papillary dermal layer, which is a shallower layer of the skin than what's colored during a regular tattooing procedure.
Some of the various forms of permanent makeup include getting your lips tattooed, eyeliner, eyelash enhancements, and microblading your eyebrows. Permanent makeup procedures can be adjusted and customized for each client's needs. Some people even use this method to cover up scars and stretch marks on their skin.
What Is The Difference Between Permanent Make Up, Semi-Permanent Makeup, Microblading and Micropigmentation?
There are multiple options available for anyone interested in getting a permanent makeup treatment, and each of these use a slightly different cosmetic tattooing technique.
Permanent Makeup
Most types of cosmetic tattoos are referred to as permanent makeup, even when they're not actually permanent. This is probably because they all use tattoo ink to deposit pigment into the skin.
Sometimes, clients will want the pigments from their lash enhancement, eyeliner or lip blushing to last a year and a half or longer. In these cases, it's necessary to place the tattoos in a deeper layer of the skin- the dermal layer. Most technicians use special digital equipment to help them do this properly.
Micropigmentation is just another name for Permanent Makeup.
Semi-Permanent Makeup
If you're not sure whether you're ready to commit to two years of lip blushing or eyeliner, permanent makeup alternatives exist. Instead of applying the deeper, permanent makeup, lips, brows and eyelashes can be enhanced using a shallower semi-permanent technique.
Semi-permanent makeup tattoos are typically applied using a handheld microneedle device to inject the ink into a shallow layer of the skin, between the dermis and epidermis. Pigments that are applied using this technique usually last from six months to a year and a half.
Many of the same tattoos can be applied as either permanent makeup or semi-permanent tattoos. The costs of a semi-permanent and permanent makeup tattoo both start at about $300, but go up depending on the complexity of each treatment and the skill of the technician.
Microblading
Unlike ombre brows, which are an eyebrow permanent makeup technique that shades your eyebrows using a series of micro-dots to fill them in, microblading mimics the natural appearance of your own hairs using a small blade instead of a digital needle. Microblading needs to be done carefully to avoid accidentally damaging the hair follicles when applying the pigments.
Many people ask "How long does microblading last?" Like any other cosmetic tattoo, the results vary depending on how deeply the pigment is placed. It's usually semi-permanent, and you may need a follow-up appointment to get your eyebrows touched up in six months or a year.
The average microblading cost is about $600, but this can be more or less depending on what's available in your area.
How Does The Permanent Makeup Process Work?
Every permanent makeup clinic will work with clients to come up with a treatment plan before their first appointment, and there are some things you'll need to consider before getting a cosmetic tattoo.
Here are the three phases of the process:
Consultation
Any permanent makeup or cosmetic tattoo appointment starts with a consultation. This appointment will last about 30 minutes, and they'll go over your medical history, including any allergies or skin conditions you have.
They'll discuss your goals, take facial or body measurements, and come up with a treatment plan that works with your face's structure and your skin tone. They'll also collect payment and go over the healing process, giving you some advice on how to reduce swelling and other complications like infection.
Drawing Design
At this stage, the technician will answer any final questions you have before applying a topical numbing cream. While this cream sits, they'll review their design notes with you from your last appointment, go over the consent forms, and prepare the pigments, needles and permanent makeup machine (depending on the technique they're using).
Then, they'll mark the skin near your lip, eyebrow or lash line, outlining the area where the tattoos will go, and make sure that you're happy with it.
Implementation
Now, it's time to deposit pigment into your skin. If you're getting permanent eyebrow makeup like microblading, they'll do this with a special, tiny blade and make hair-like strokes to fill in your brows.
If you are having something like a lip tattoo, permanent makeup eyeliner or ombre brows done, they'll use a nano-needle (much smaller than a regular tattoo needle) or digital equipment. After you're fully healed, you may need to come in for multiple touch-up appointments to get the results you want.
Permanent Makeup Aftercare
Along with the proper care instructions you'll get during your cosmetic tattoo appointment, there are a few other things that you can do to preserve the pigment in your tattoos and speed up the healing process.
First, remember that it can take six weeks for your skin to fully heal after tattooing, so don't worry if some peeling occurs. This is natural while the tattooed skin is healing. Try to keep the area dry and clean while it's healing. If you have oily skin, you can gently dab the excess away using a clean cotton pad.
Avoid sun exposure and try to keep your sweat glands under control by staying away from saunas and heavy exercise. Also, don't go swimming, apply makeup or moisturizer (apart from certain products that they'll either recommend or provide you with).
Please note that the fading process is natural and you will see some changes in your makeup tattoo as it heals. In most cases, this will help it to look more natural. If you want to touch up the pigment after it's healed, it's usually possible to add more.
Permanent Eyebrow Makeup
When it comes to permanent makeup, eyebrows are one of the most popular choices.
Do not miss our post on Brow Lamination.
What Is It?
The most common eyebrow shading technique is microblading, but all types of eyebrow tattooing are similar. Basically, the technician uses a very fine needle to deposit pigment under the skin, either to darken the brows or fill them in with small, hair-like strokes.
Recommended For
People who spend a lot of time filling in their brows everyday may benefit from microblading or eyebrow shading. It works especially well if you have clear skin and smaller pores, since the technician can achieve a high level of detail.
How Long Will It Last?
Generally, these tattoos will fade within one to three years, depending on your skin type, how you care for them, and how deeply they were applied in the first place. Many people get the pigment touched up in about twelve to eighteen months.
What Are The Risks?
This is a relatively safe procedure, as long as you go to a technician or dermatologist with the right permanent makeup training and a clean facility. The biggest risk is infection from blood borne pathogens or bacteria, so make sure that your facility is properly equipped and sanitary. There's also the risk of damaging your eyebrow hair's follicles, if the technician isn't careful.
How Much Does It Cost?
This process will usually cost between $600 to $1000, depending on where you're located and who your technician is.
Lip Blushing - Permanent Lip Makeup
Lip Blushing is a great way to achieve just-bitten, rosy lips. Let's look closer at the process.
What Is It?
A technician uses a special permanent makeup machine or ultra-fine needle to apply a wash of color across the surface of your lips. The pigment used is usually close to your natural shade and is meant to enhance it and define the shape of your lips.
Recommended For
Clients may need a higher pain tolerance for lip tattoos, as it's a very sensitive area and they might have to go over it multiple times to get the desired color. But, if the idea of fresh, pink lips all day appeals to you, you should consider it.
How Long Will It Last?
The pigment will fade from your lips gradually, with the final color lasting about a year. Remember that you may need one or two touch-up treatments initially to get the shade that you want.
What Are The Risks?
The biggest risk is that clients may have an allergic reaction to the red pigment that's used. If this happens, there's no easy way to remove it, since lasers are often ineffective.
How Much Does It Cost?
The average lip blushing cost ranges from about $400 to $2000, depending on your location and the number of initial appointments that you need to get the results you're looking for.
Permanent Eyeliner
Now, let's talk about permanent eyeliner, and why this might be a good choice for you.
What Is It?
The two most common types of eyeliner tattoos are lash line enhancement (where ink is applied in the lash line to highlight your eyes) and semi-permanent eyeliner, which can be different shapes and thicknesses.
Recommended For
Anyone looking to make their eyes stand out with a bit of extra color may benefit from this, along with people who spend a lot of time doing their eye makeup every day.
How Long Will It Last?
Permanent eyeliner lasts from one to three years, but many people get additional touch-ups more often to keep the color nice and bright.
What Are The Risks?
Like other cosmetic tattoos, the biggest risk is infection. This is why it's important to always go to a reputable dermatologist or clinic.
How Much Does It Cost?
The average permanent eyeliner cost or lash line enhancement cost ranges between $200 and $1000 per session. This price can vary a lot by location, and the type and thickness of the eyeline that you want to get.
Freckle Tattoos - Permanent Makeup Freckles
You may not have heard of freckle tattoos before, but they're one of the hottest permanent makeup trends.
What Is It?
These are just what they sound like: freckles tattooed onto your face. Usually, technicians or tattoo artists will use a single needle to add ink to the skin, gradually building the freckles until they're dark enough. They can create an even fade, or mimic the naturally-uneven texture of regular freckles.
Recommended For
Anyone who either misses the look of youthful freckles after a day in the sun, or anyone who has always wanted them, but either doesn't freckle, or wants to avoid sun exposure.
How Long Will It Last?
These will fade gradually over time, but most people will need to get their freckles touched up after a year or two.
What Are The Risks?
The biggest risks are infection (just like any other tattoo) and dissatisfaction. Make sure to have your artist draw on the placement first, so that you can get a good idea of how your freckles will look.
How Much Does It Cost?
Freckle tattooing will usually cost about $150 or more, depending on your location and the artist. It's a relatively simple procedure that doesn't take much time to complete.
Pro Tip: With any permanent makeup process, there's always the risk that you may be unhappy with the final results. To help avoid this, make sure to go to the clinic's before and after photos and have a detailed consultation.
Learn more in our article about Eyebrow Tinting.
Recommendations
Many people enjoy the convenience of waking up with their makeup at least partially done.
Permanent makeup can be a great way to make subtle (or dramatic) changes to your face or body. If you're considering it, make sure to check multiple providers and look at their before and after photos to see if they're right for you.
Citations
Permanent makeup: indications and complications
https://www.sciencedirect.com/science/article/
Complications of tattoos and permanent makeup: overview and analysis of 308 cases
https://onlinelibrary.wiley.com/doi
Adverse reactions after permanent-makeup procedures
https://www.nejm.org/doi/full/10.1056/nejmc063122
FAQs
How long does permanent makeup last?
How much does permanent makeup cost?
The cost of a permanent makeup application can vary a lot, depending on what you're getting done and the location of the clinic. Expect to spend anywhere from a couple hundred dollars to a thousand or more.
Is permanent makeup safe?
In general, permanent makeup is very safe when it's applied by a trained professional using sterile equipment. If you've had any allergic reactions in the past, or have any medical concerns, be sure to mention these during your consultation.