7 Types Of Hair Extensions And How To Choose One For You?
Posted on Jul 3, 2023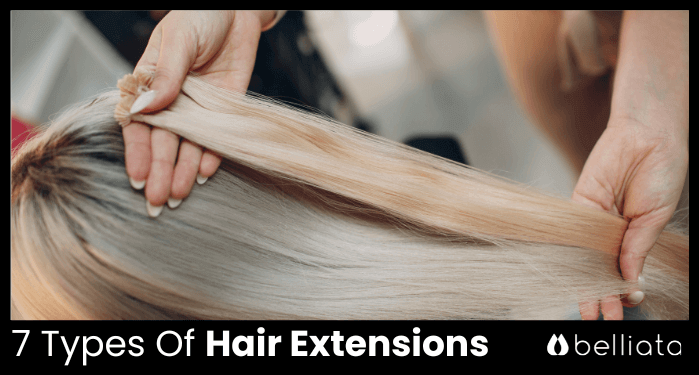 In this article, we'll look at all of the different types of hair extensions you can get from your hairdresser, how to care for them, and how much time/money it takes to maintain them. This will make it much easier for you to choose the best extensions for your hair type and your budget.
Jump to the Section You Like
Human Hair Extensions vs. Synthetic Hair Extensions
You probably know that there are different types of hair extension materials, but you might not know what the different materials are and when each type is used.
To start, let's look at the biggest difference: natural hair extensions and synthetic hair extensions.
Real Human Hair Extensions
These are made with real human hair, collected or purchased from a donor, and it comes in varying qualities. The best quality ones are made from remy hair: this natural hair has never been processed or dyed, and the cuticle (the outer layer of each hair) is fully intact.
You can get these natural hair extensions in a shade that matches your own natural hair, or have everything dyed to a new hair color.
Some of the advantages of human hair extensions are that you can treat them a lot like your real hair: you can dye them with hair color, wash the hair and use curling irons and other heat styling tools on it. Once you have these extensions installed, they'll usually last a lot longer than synthetic extensions (sometimes, you can keep them for up to a year with proper care.)
The biggest disadvantage of natural hair extension options is the cost. Remy hair extensions can cost anywhere from $150- $500, depending on the hair type, length, and installation time. This real hair also requires regular maintenance and treatment with deep conditioning products.
Pro Tip: Always use a lower heat setting when styling natural hair extensions, as this will help prevent damage.
Do not miss our post on Most Popular Long Hairstyles for Women.
Synthetic Hair Extensions
Synthetic hair extensions are made from plastic-like materials. This type of extension hair comes in various colors, lengths and textures that you can match to your own hair. Many first-time users choose synthetic extensions because of their low price and availability.
Synthetic extensions come in many forms, and the quality, color and texture can vary. You can buy temporary clip-in extensions in fun colors or get semi permanent extensions made from high-quality synthetic materials. Some of these feel very realistic.
The advantages of a synthetic type of hair extension include the cheaper price and the wide range of colors and textures available. A good set of synthetic extensions will cost between $60-$200.
Some disadvantages include the fact that you can't use heat styling on synthetic hair, the difference in texture (most don't feel "natural"), and their relatively shorter lifespan. Regular washing and buildup from hair products will cause them to start breaking or looking dull more quickly than natural hair.
What Are The Different Types Of Hair Extensions?
Whether you choose synthetic or natural hair, there are several different types of hair extension methods available.
So, what is the best type of hair extensions? What type of extensions are best for thin hair? And which extensions last the longest?
The hair extension method that's right for you depends on your natural hair type, your needs, and the amount of time, money and effort you're willing to spend maintaining them.
Let's take a closer look…
Clip-In Hair Extensions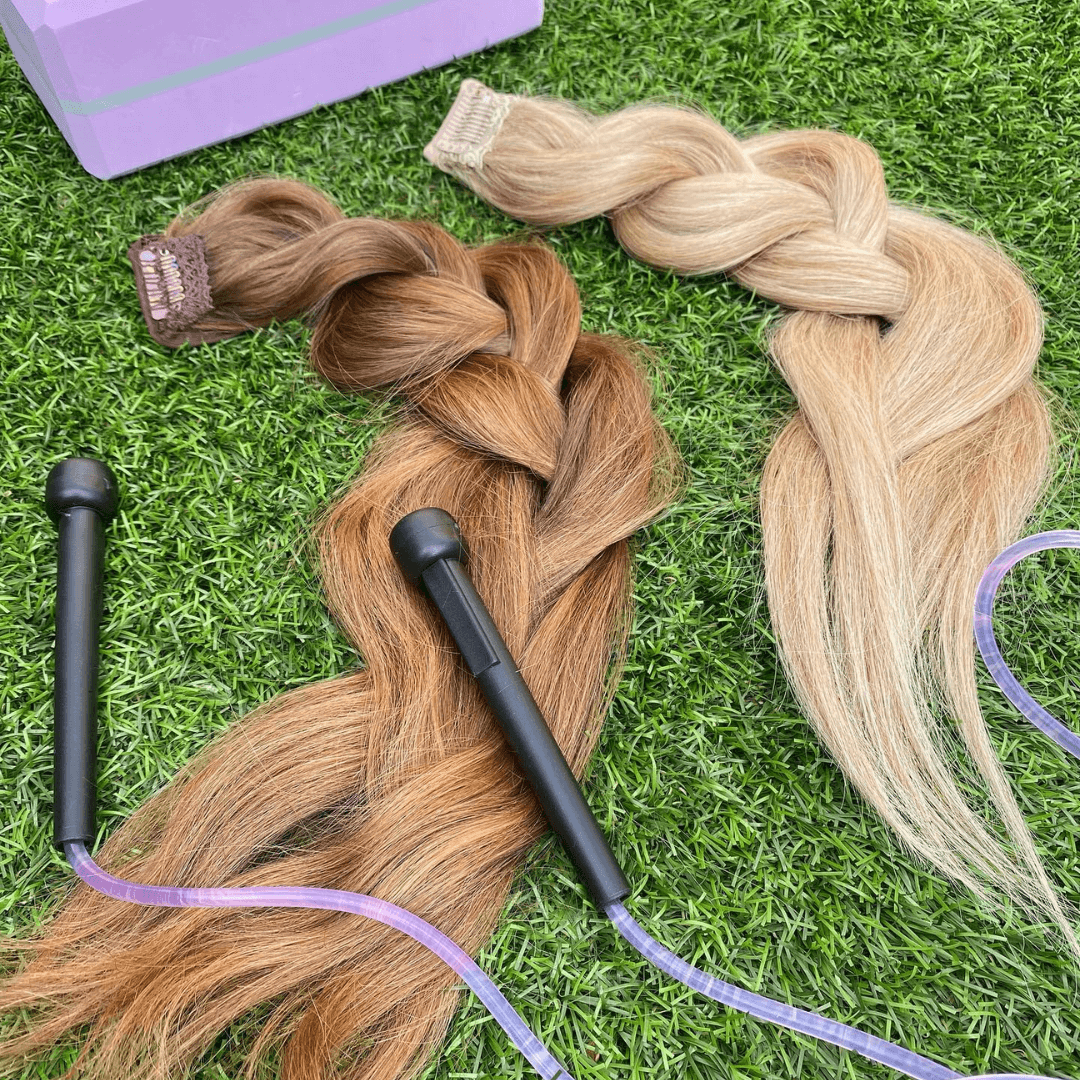 What they are: Clip-in hair extensions (often called "clip-ins") are one of the most temporary extension methods.
They can be made of natural hair or synthetic materials in various colors that are sewn onto plastic or metal hair clips. You can even purchase clip-in bangs. You can install clip-ins yourself and remove them every night.
Care and maintenance: Each human hair clip will need to be occasionally washed in a gentle shampoo and air dried. Synthetics require less washing and should not be styled with harsh styling products or heated tools. A good set of clip-in extensions can last up to a year.
Recommended for: Chemically-sensitive people will like these temporary extensions, since they don't require glue, chemicals or glue remover to use. Also, younger women, those on a budget, or anyone looking for a temporary hair extension may enjoy them.
Fusion Hair Extensions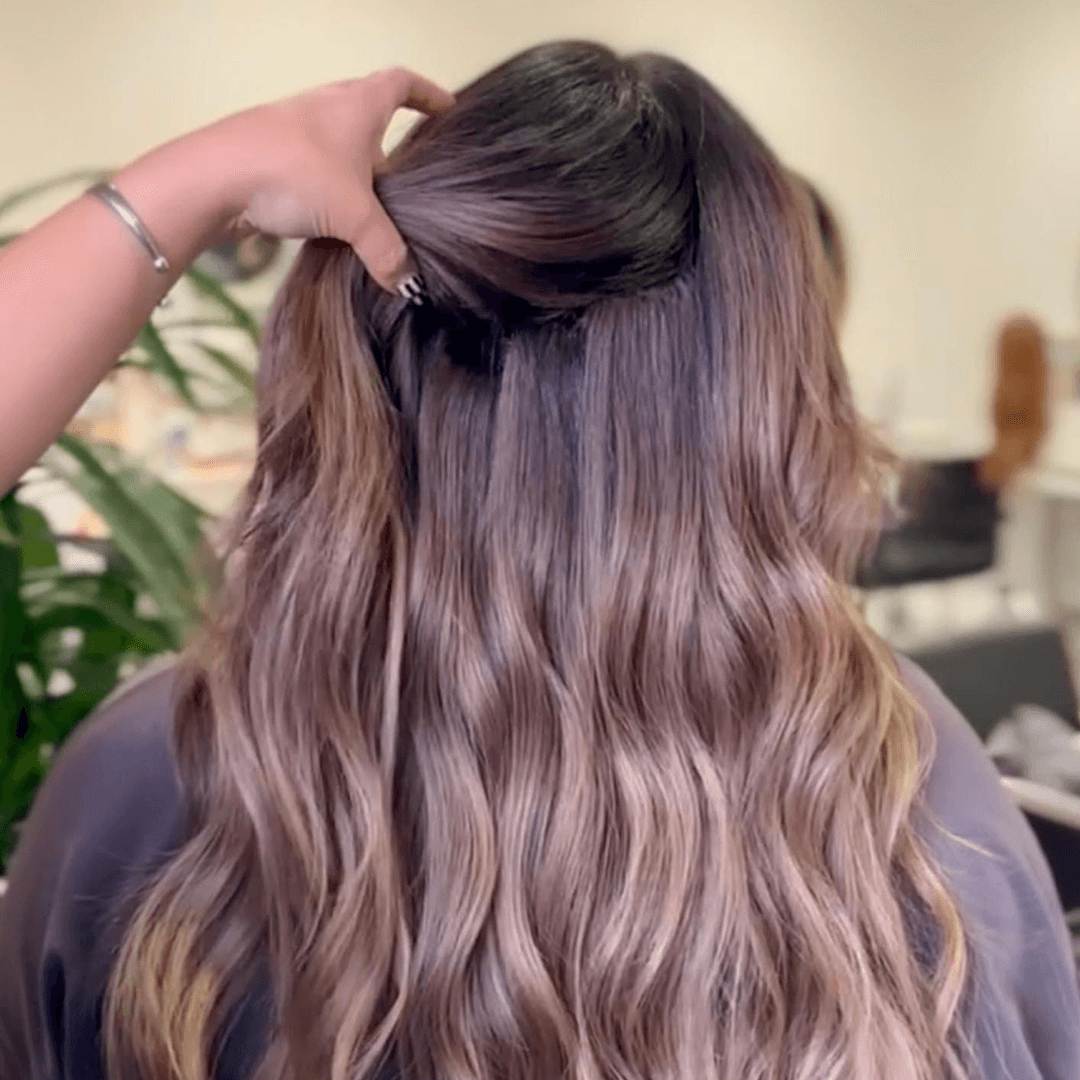 What they are: Also called "Pre Bonded" hair extensions, these are actually a type of keratin bond extensions- the bonded hair extensions stick to your own hair using heat-activated keratin glue. To install them, the hairstylist divides your hair into small sections and then heats the ends of each one using a tool like a hot glue gun.
Care and maintenance: These fusion extensions are usually made with human hair, so you can style and wash them gently. Avoid using high heat on these, as it can damage the bonded extensions. These semi-permanent hair extensions will need to be replaced every 6-8 weeks as your natural hair grows out. They're suitable for all hair types.
Pro Tip: braid your hair before bed to help keep the strands from tangling. This will make fusion extensions last longer.
Recommended for: Clients who are looking for long-lasting extensions bonded to individual strands for a very natural appearance. This can be a good way to enhance the appearance of thinning hair. Fusion extensions are time-consuming to apply and more expensive than other methods, so they're not recommended for anyone on a budget.
Micro Link Hair Extensions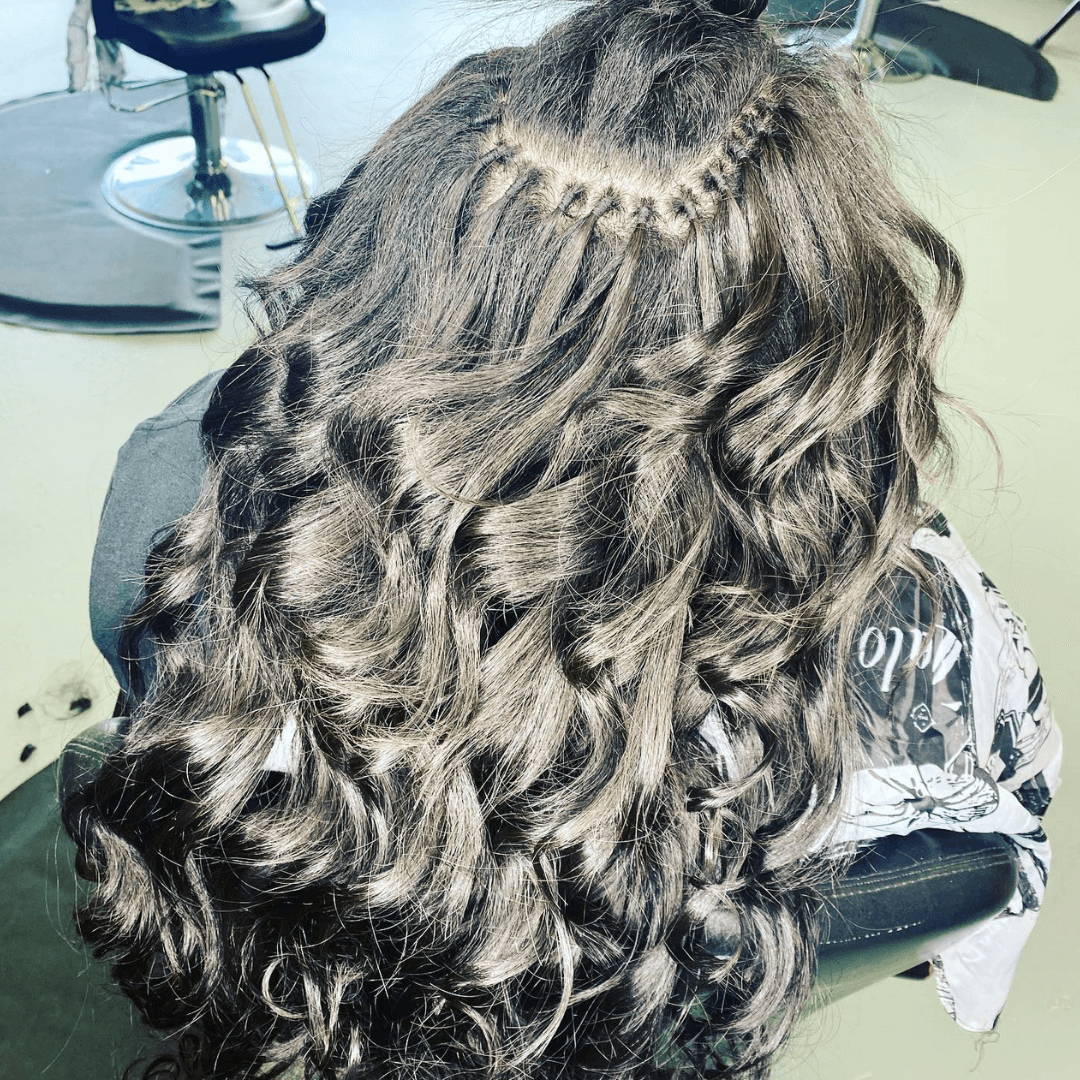 What they are: Micro link extensions are designed to cover the entire head and are installed by attaching small bundles of hair to sections of your own hair using silicone-lined beads (this is similar to I-tips, which use small plastic tubes to attach the hair pieces). This process takes 2-4 hours and requires a trained professional- if it's not done properly, they can cause scalp irritation and hair loss if the beads are too tight or poorly placed.
Care and maintenance: The beads will need to be repositioned every 2-4 months. You can wash and style your hair as normal, but be gentle to avoid pulling and extensions falling out. If you have thicker hair, installing and adjusting them will take longer.
Recommended for: Clients with chemical sensitivities or allergies, because these extensions add length and volume to thin hair without using any glue or harsh chemicals. They're more expensive than some other options because of the expertise involved, and aren't recommended for people with fragile hair or sensitive scalps.
Tape In Hair Extensions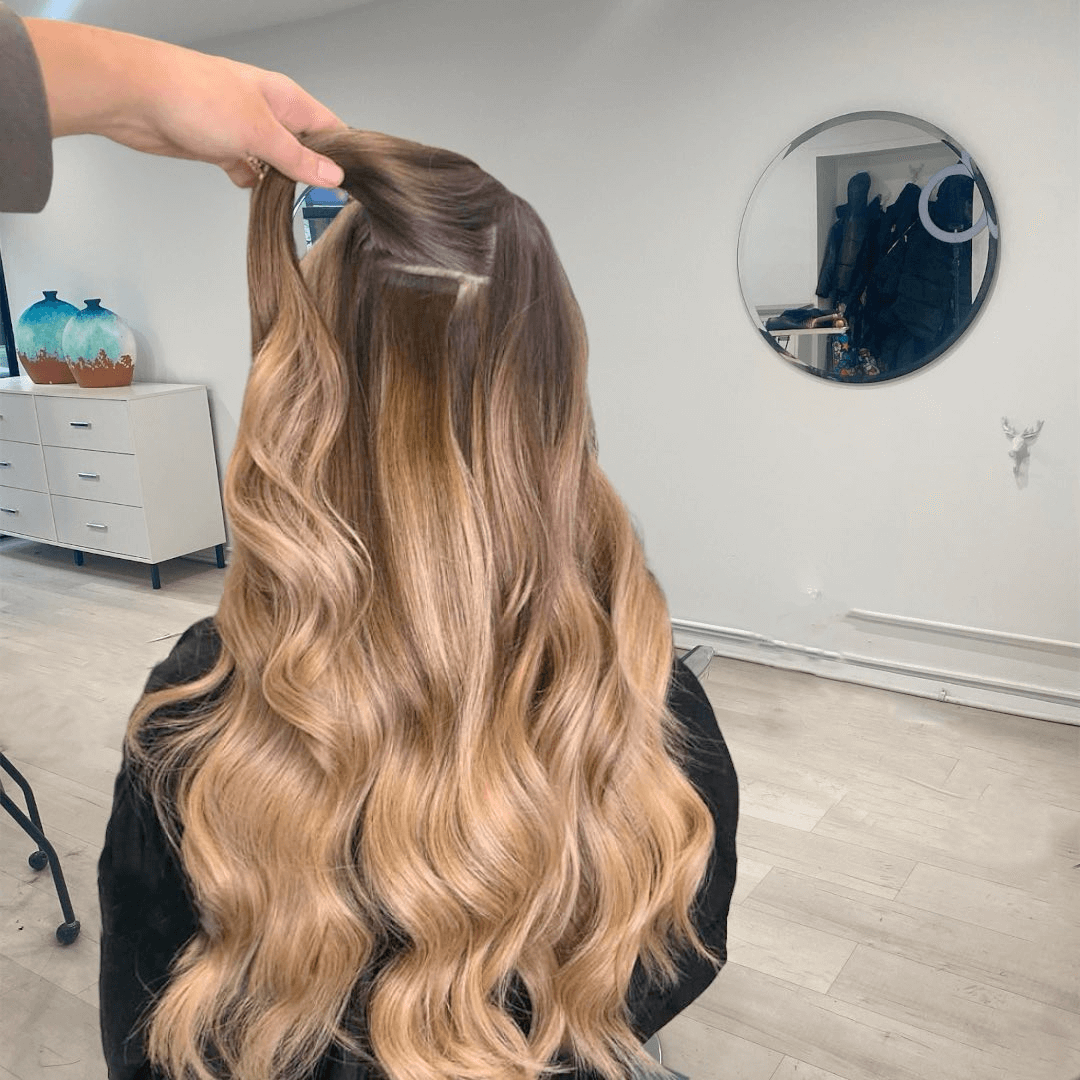 What they are: Tape-in extensions are made by attaching each extension to sections of your existing hair using a medical-grade adhesive. Tape-ins are very popular because they're relatively quick and easy to install. Each taped piece sticks to a section of hair and follows the same direction as it.
Care and maintenance: Tape-in hair extensions are usually less expensive than micro-link or fusion extensions because they're easier to install. They'll need to be redone every 6-8 weeks, and you'll have to avoid using any hair oils or conditioners near the tapes.
Recommended for: Tape extensions are suitable for thin or thick hair and are a good choice for anyone on a budget who wants to try out semi-permanent long hair extensions. They're not suitable for people who like to use heat styling as this can damage the tapes.
We recommend you to check out our post on Popular Short Hairstyles for Women.
Sew In Hair Extensions
These extensions are exactly what they sound like. A stylist installs them by braiding sections of your hair into tight cornrows or braids, then sews the extensions onto them. You can have them installed on part of your scalp or opt for a full weave (more on this later).
Care and maintenance: If you're wondering what type of hair extensions last the longest, then sew-ins might be the right choice for you. Once these extensions are sewn and hand tied to the braided sections of hair, they're nearly permanent and can be styled as normal.
Recommended for: Because you'll need thick enough hair to support the extensions, these are not the best type of hair extensions for thin hair. We recommend sew-in extensions for anyone looking for a more permanent solution.
Weave Hair Extensions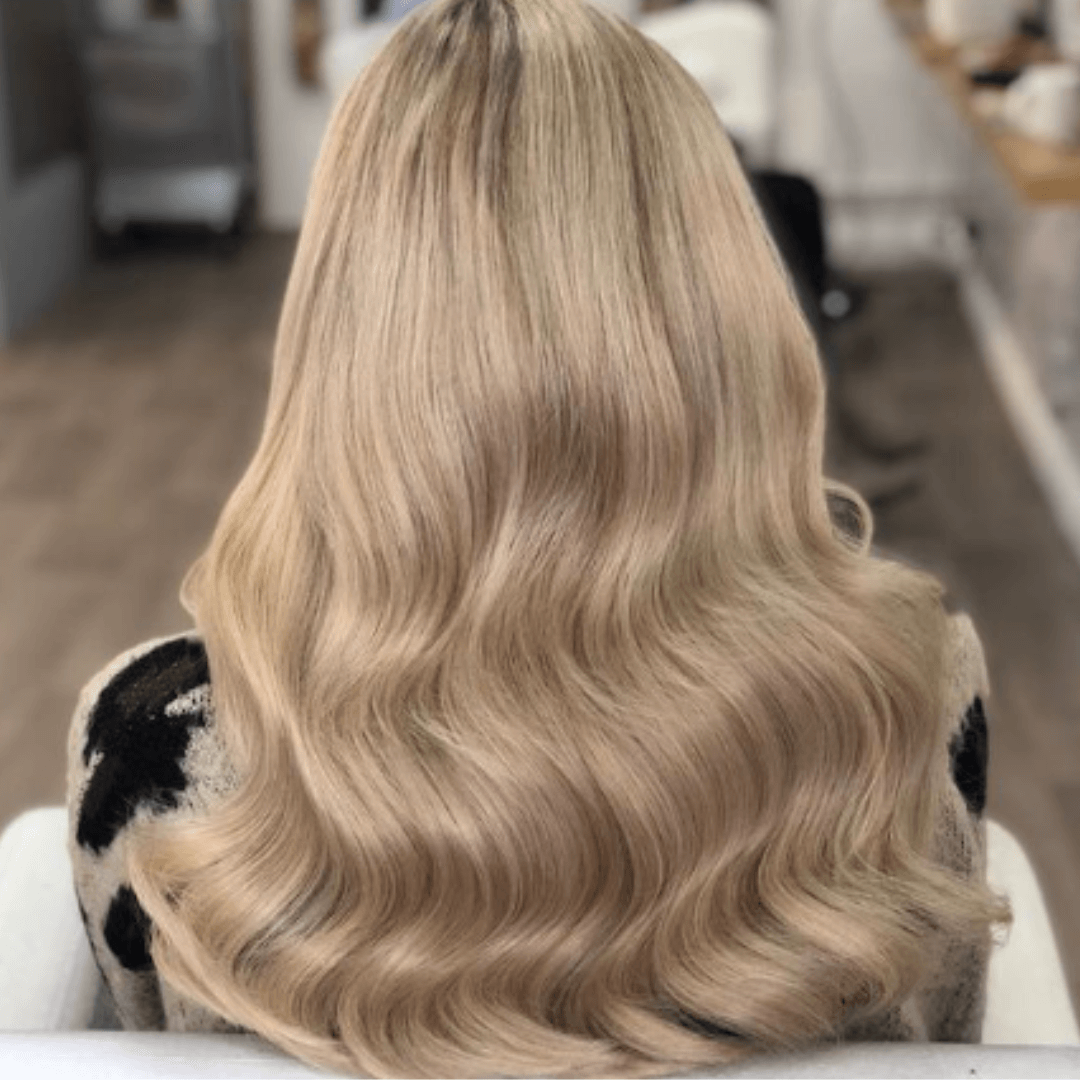 What they are: Like sew-in extensions, weaves are sewn onto braided hair. They're usually meant to cover the whole head and can provide a very dramatic look. A full weave of good-quality hair can cost anywhere from $500 to $1500 or more. Some weaves even come as a whole wig which can be sewn on.
Care and maintenance: Weaves can take up to 6 hours to install, but don't require much maintenance. If the woven hair is natural, you can wash and style it gently. A good weave will last up to 12 weeks before it needs to be redone.
Recommended for: Weaves work well as a protective style that allows the natural hair underneath to grow without breakage. They're a wonderful choice for anyone who wants a more permanent option.
Wigs and Hair Pieces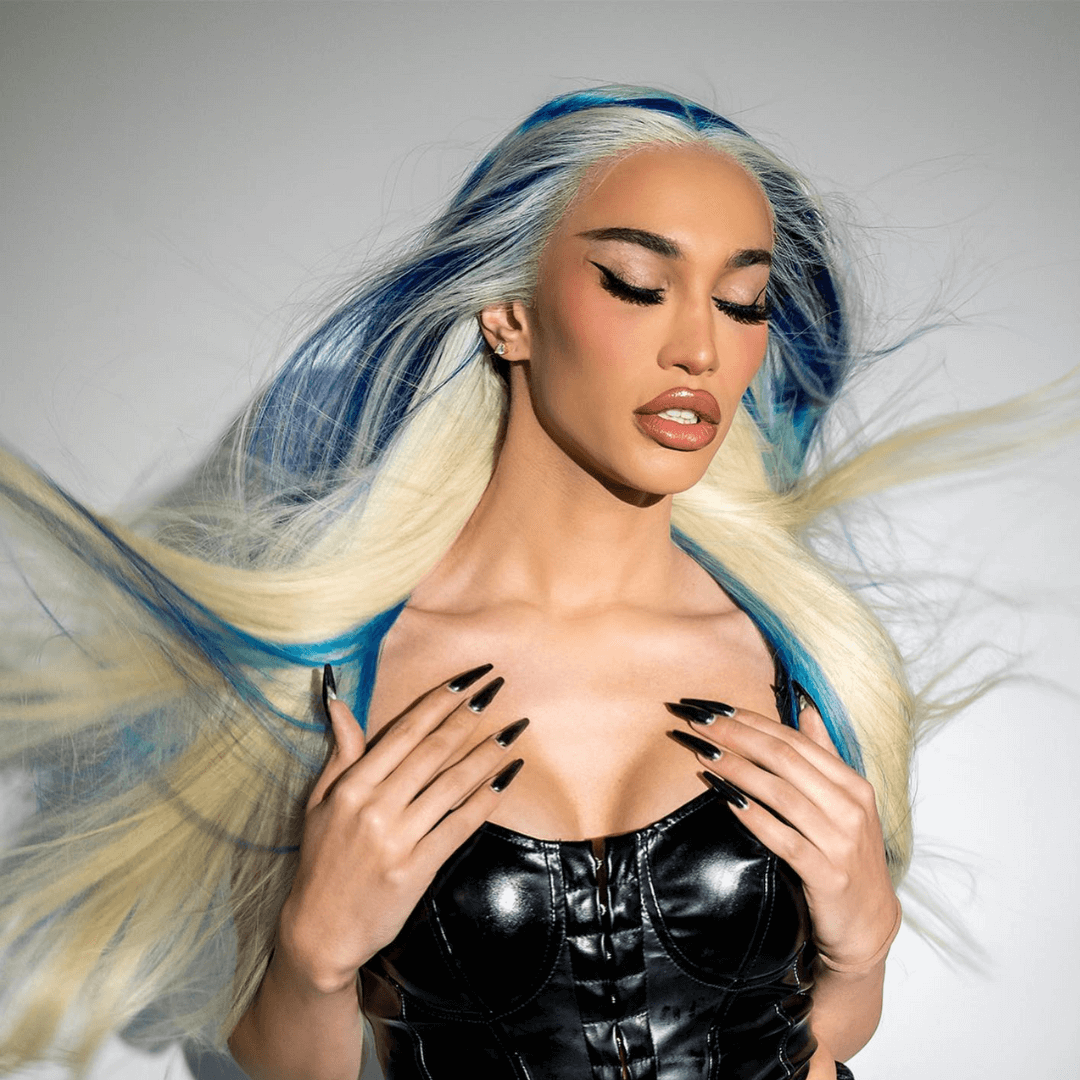 What they are: There are many types of hair pieces available, from clip-on ponytails attached to a hair tie to halo hair extensions that sit on a fine wire next to your scalp. Each one is different and designed to meet a specific need. Wigs sit over your existing hair and come in a variety of lengths, textures and colors.
Care and maintenance: Brush your wig or hairpiece out very gently after using. Your stylist can recommend products for washing or cleaning it as needed.
Recommended for: If you have a very sensitive scalp, want to be able to change your hair temporarily and frequently, or are looking to invest in a low-maintenance, long-term option, then wigs are a good choice.
Do not miss our post on Hottest Balayage Hair Color Trends.
How Much Are Hair Extensions?
The exact price of your extensions will depend on a lot of things, including the type of hair used, the length of time the stylist spends installing them, and the method used. On average, extensions cost between $200 and $600.
How Do Hair Extensions Work?
Hair extensions work by attaching pieces of synthetic or real human hair to your own using either an adhesive, special thread, or a special type of bead or clip. Some extensions are nearly permanent while others are temporary.
We recommend you to check out our post on Different Hair Styles.
Conclusion
In general, the best type of hair for extensions is hair that's undamaged and not prone to breakage. If your hair's very fragile or your scalp is easily irritated, consider using wigs and hairpieces instead.
There are a lot of different types of hair extensions to choose from. Now that you know a bit more, why not schedule a consultation with your stylist to see what's best for you.
Citations
Hair camouflage: A comprehensive review
https://www.sciencedirect.com/science/article/pii/S2352647516300211
Essential of Hair Care Cosmetics
https://www.mdpi.com/2079-9284/3/4/34
Human Hair as Interactive Material
https://dl.acm.org/doi/abs/10.1145/3173225.3173232
Hair Extensions FAQs
What Are The Best Types of Hair Extensions for Thin Hair?
What Type of Extension Should I Get?
If you're considering getting hair extensions, then the easiest way to see which type is best for you is to schedule a consultation with a qualified stylist. You can go over your hair goals and choose the best extension method together.
How To Look After Hair Extensions?
Each type of extension has its own care instructions, which your stylist will go over with you. In general, be gentle when washing your hair and try to avoid using chemical styling products or heated styling tools.